Dairy Maids Drill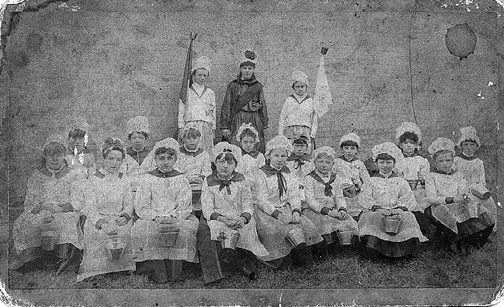 "Dairy-maids' Drill - First Presbyterian Church Sabbath School
Christmas Entertainment, Madison, Ind.
Dec. 30th, '86."
First row (front row): 1. Clara Sering, 2. Anna Cochrane, 3. Helena Gordon, 4. Lizzie Herbst (first cousin to my grandmother), 5. Carrie Weyer (my grandmother), 6. Grace Owen, 7. Bertie Rogers, 8. Florida Stuart.
Second row: 9. Gertie Mabrey, 10. May Stuart, 11. Lettie Sering, 12. Katie Barton, 13. Iva Schofield (possibly a cousin of my grandfather, Albert Haigh), 14. Bessie Reid, 15. Anna Thomas, 16. Clara Palmer.
Third row: 17. Mamie Greusling, 18. Hattie Leland, Capt., 19. Ella Dow.
The picture was a professional photograph, taken by Wm. G. Wicherhart (this is as close as I can come...it is written in very fancy script, which makes it almost unreadable), 835 West Madison Street, Madison, Indiana".
Bill Brewer wwb@ix.netcom.com
---
Return to [ Jefferson County Church and School Pictures ] [Jefferson County INGenWeb ]