Friermood - Smith Family
---








William Hiram Friermood
Lecta Victoria (Smith) Friermood
Goldie Ann Friermood

ca 1892.










---
Goldia Ann, William F. and Electa V. (Smith) Friermood
---
"Aunt Tora Smith Friermood Girls. Goldia & Roxie"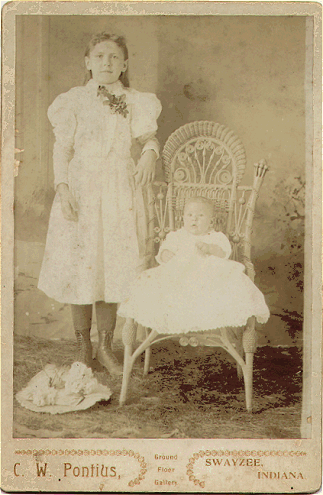 ---
Thanks to George E. Rothacher for the pictures on this page. He is a descendant of Electa V. Smith - Friermood.

I will be adding more pictures and information to these pages. Please check back. If you have a picture you would like added. Feel free to send it to me via email.
[Smith - Nesbitt Family] [Nesbitt - Smith Family]
[Smith - Hoggatt Family] [Hoggatt - Smith Family]
[Smith - Lawson Family]
&COPY 1999, by Ruth A. Hoggatt
---