Hardenbrook, Gibson and
Montgomery Families
The following pictures and letter were sent to me by Elaine Swan s88897@aol.com. Many thanks to her for bringing to us some of Jefferson County's past citizens and for sharing her family history with us.
---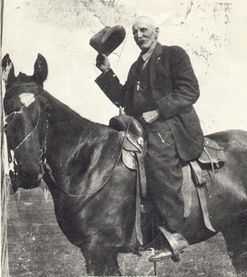 JOHN HUSE HARDENBROOK was my great-grandfather.
He was proud of his civil war service, having served in Co. H 137th Vol. Inf. He enrolled May 12, 1864 at Madison, Jefferson Co. Ind. and enlisted May 26, 1864 at Indianapolis.
Later after the war he served in Ft. Snelling, MN.
He is pictured here at 90 years of age.





---

GREAT-GRANDPARENTS
Left: Philinda Katherine Montgomery Hardenbrook, born in Republic Twp., Jefferson Co, IN in 1849, daughter of James Montgomery and Electra Farrer.
Middle: John Huse Hardenbrook, husband of Philinda, born in Madison, Jefferson Co. IN in 1847, son of Lewis Hardenbrook and Elizabeth Leach. He was a fine cabinet maker. John moved to Minburn, Dallas Co., Iowa in 1870. He died in 1938 in Linden, Iowa.
Right: Mary Jane Gibson, Johns sister.
John and his wife were visiting Mary Jane. Date of photo in early 1900's.
---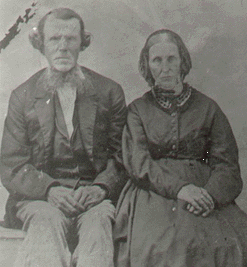 GREAT-GREAT GRANDPARENTS
Lewis and Elizabeth Hardenbrook were residents of Madison, Jefferson Co IN.
Lewis was born in 1806 in NJ. He served in the Mexican war and the civil war, enlisting from Indiana.
Elizabeth was born in 1810 in CT and was a seamstress.
---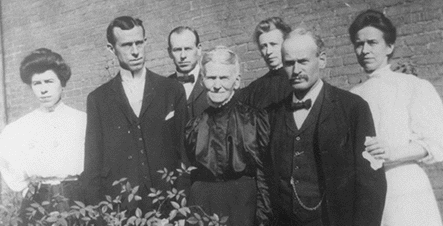 THE GIBSON FAMILY

Front: Mary Amelia Gibson Robinson, William H.Gibson, *Mary Jane Hardenbrook Gibson. Edward H. Gibson and Gertrude E Gibson. Back: John Jay Gibson and Nellie Abercrombie Gibson Davison.

Photo taken in 1908 in Madison, JeffersonCo. IN.
*Mary Jane is Elaine's great-grandfather's sister.
---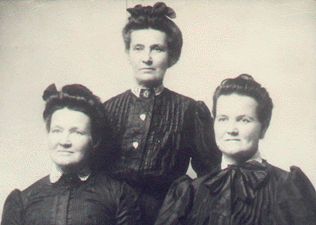 THE MONTGOMERY SISTERS
Addie Montgomery, Margaret Montgomery and Elaine's Great-Grandmother Philinda Katherine Montgomery. Daughters of James Montgomery and Electa Farrar.
They lived in Republic Twp., in the 1840's. Philinda was born in 1849 there. She was married in Madison, IN to John Huse Hardenbrook.
I am trying to find out data on Margaret Montgomery. She was said to have been a civil war nurse. She was also said to have married a southern soldier which hurt her family. Any information on her would be appreciated. Elaine Swan s88897@aol.com
---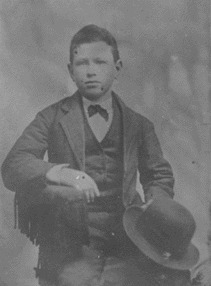 WILLIAM HARDENBROOK, brother of John H. Hardenbrook and son of Lewis & Elizabeth Leach; was born July 12, 1836. He married Sarah Raiser in Louisville, Ky. on March 17, 1857.
---
Letter from William Hardenbrook to the Madison, IN newspaper. Letter dated Dec. 6, 1909 Hinton, Okla. William was John's older brother.
Dear Courier,
Having long ago taken Horace Greeley's advice, I am away out here in God's country and feel like talking to or about those I knew in your pretty city on Auld Lang Syne. Being alone now in the world nothing to do but read or write, as my rambling mind carries me back to 1847 when I first landed at the old Madison wharf on the old steamboat Blue Wing.
The next year father enlisted and went with Capt. John T. Hughes to Mexico. Also John Tagues father in the same Co. and regiment 4 under General Taylor. leaving their famlies to root hog or die. I being the oldest went to work as a cotton bug in the old Counden factory under Eastman their foreman. Not liking that I went to Daddy Reed in the Old Madison House at 4 dollars a month, blacking boots and using a wheel barrow for a dray going from hotel to boats and depot. Cleared about 15 dollars to 20 dollars a month keeping mother and the younger children in clothes and plenty to eat. Then the big Madison Hotel being built, I got a job there in the dining room at 12 dollars a month then tips added. J. Dunn not Dutch Henry Staul head porter, Jake Smith and wife head cooks. I was then promoted to boot jack and assistant porter. Cripple Frank Sheets and Bill Woods, clerks Bob Browning and John Doble proprietors.I got to be head porter and clerk master and transfer agent in bus line and transferring of all baggage. So mother and children did not need for anything and Billy had plenty and end to friends.
So ever since about 62 years I wonder who I would recognize there? For instance Bill Kirchner, Bill Phibbs, Robert Right Reas and all the Reas with Jim Buchanen, Bill Keuthan, I stripped tobacco for him. and Jake and Andy Fisher, worked for the Dallies and Copeland Wies on the buses.
When my rambling mood came on I went to the steamer Wisconsin as second steward Afterwards I went on to the Golden Gate which I was head steward of for 2 and a half years. Capt. Stapp and Bill Stapp clerk. Followed the Ohio awhile then Louisvile to St.Louis, then to New Orleans and St. Louis also up Red River on the steamers Golden Gate, Pat Whitson Navigator Jesse K. Bell, Eclispe on A.L. Shotwell salary from 60 dollars to 125 a month, yet remembering mother and children at home. My home was where ever my hat was. Finally I became tired of rambling. I married in 1857, quit the river in 1859 and moved to Morgan Co. Ind. going there for my better health.
War broke out, and being a Freemont Republican I could not stand it. Father and brothers and my wifes father and all her brothers gone. I kissed my sweet wife and 2 sweet babes and went as a private July 22,1862. Aug.12,1862 was ministered in as first Lieutenant, Co H 70th Ind. Vol Inf, with noble Ben Harrison with who my wife was intimate. I served until the close of war and came home as Captain and Provost Marshall Third Division 20th Army Corps. Wounded 6 times, 3 severe wounds I suffer with yet, but now at my age I dont mind it, I have not a enemy in the world of which I know.
I visit about with my children go where and when I please. I do not owe a dollar. have plenty to eat and wear. My beloved companion after 4 or 5 years of illness was laid to rest April 12, after a happy union of 52 years. She only awaits my coming God bless her which will be when I anwser the call. The family is now scattered all over the world. mother and sister are in your cemetery there, father, Irvin, wifes mother and four sons at Louisville, also Newton, Kansas. Wellington, Kansas and Hinton cemeteries where I will finally rest.
So in conclusion I can view your little town and Old Michigan Road, Schmidts store building and the Old High school on a high knob where I went when I could and the Catholic Church near the foot of the hill. The fair grounds and old John Broughs engine with cogs in the center of the track to pull up the hill. And what fun I used to have helping the Jenkins pull the seins to catch fish and they would give me all I could carry and let me have their skiffs to go across the river to Ky. and get wild blackberries for which we got 50 cents a bucket. Could I live my days over Rockefeller and Vanderbilt would not be in it. So my advice to a young man is just to stick. That is a big word. and a logical motto. Just study it some of you old fellows of my age and write me. I have a dear sister and neices and nephews living in dear old Madison-The Gibsons.
William Hardenbrook
---
Again, thank you Elaine.

May 20, 1999
Web Page by Ruth Hoggatt.
---