Jefferson County, Indiana
Military Pictures
Click on the Thumbnail Pics for a Closer View.
---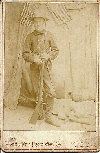 Sent by: Karon
"George Fredrick Spangler, son of Carl Spangler and his wife Veronica Kessler Spangler. Carl and Veronica lived in North Madison Indiana, where Carl was a ship carpenter. This was taken during the Spanish American War."





---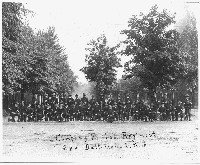 Sent by: Bill Brewer
Picture of Company F, 1st Regiment, 2nd Battalion, Indiana National Guard, probably circa 1900. Picture taken at intersection of Broadway and Third Street, with the men facing north. The Broadway Fountain behind the men on the right and the Church further in the background also on the top right.
---
Go to: [Jefferson County GenWeb] [Indiana State Page]
[United States GenWeb]
[World GenWeb]
---
Ruth Hoggatt / Madison, Indiana / bhoggatt@seidata.com
This page was last updated on 10/07/1999